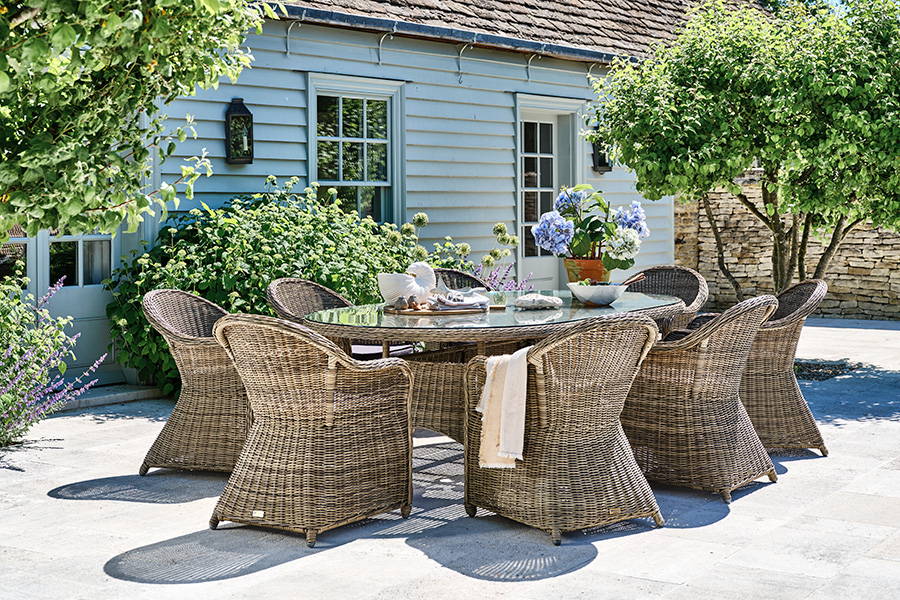 At Bridgman, all of our outdoor furniture - Rattan, Teak, Aluminium and Resin - is designed to be virtually maintenance free. With just a little TLC, you can keep it looking its best year after year.
Simply remove all cushions, if applicable, and brush away any loose debris such as leaves, bird droppings or food, then clean with a soft brush and warm soapy water. Finally, rinse with clean water.
Rattan and Teak can also be cleaned with careful use of a jet wash on a low setting at a distance - avoid spraying with too much power within a close proximity. Leave Teak to dry thoroughly for at least 48 hours, then run your hands gently over the wood and rub down any raised patches with a low grit sandpaper. At this stage, you may choose to apply treatment onto the newly cleaned timber or leave it to turn a natural silver, grey colour. Any application used will not affect the lifespan of the furniture, it is merely a cosmetic finish. Rattan simply needs to be left to dry.