HOW TO DESIGN A PERFECT PATIO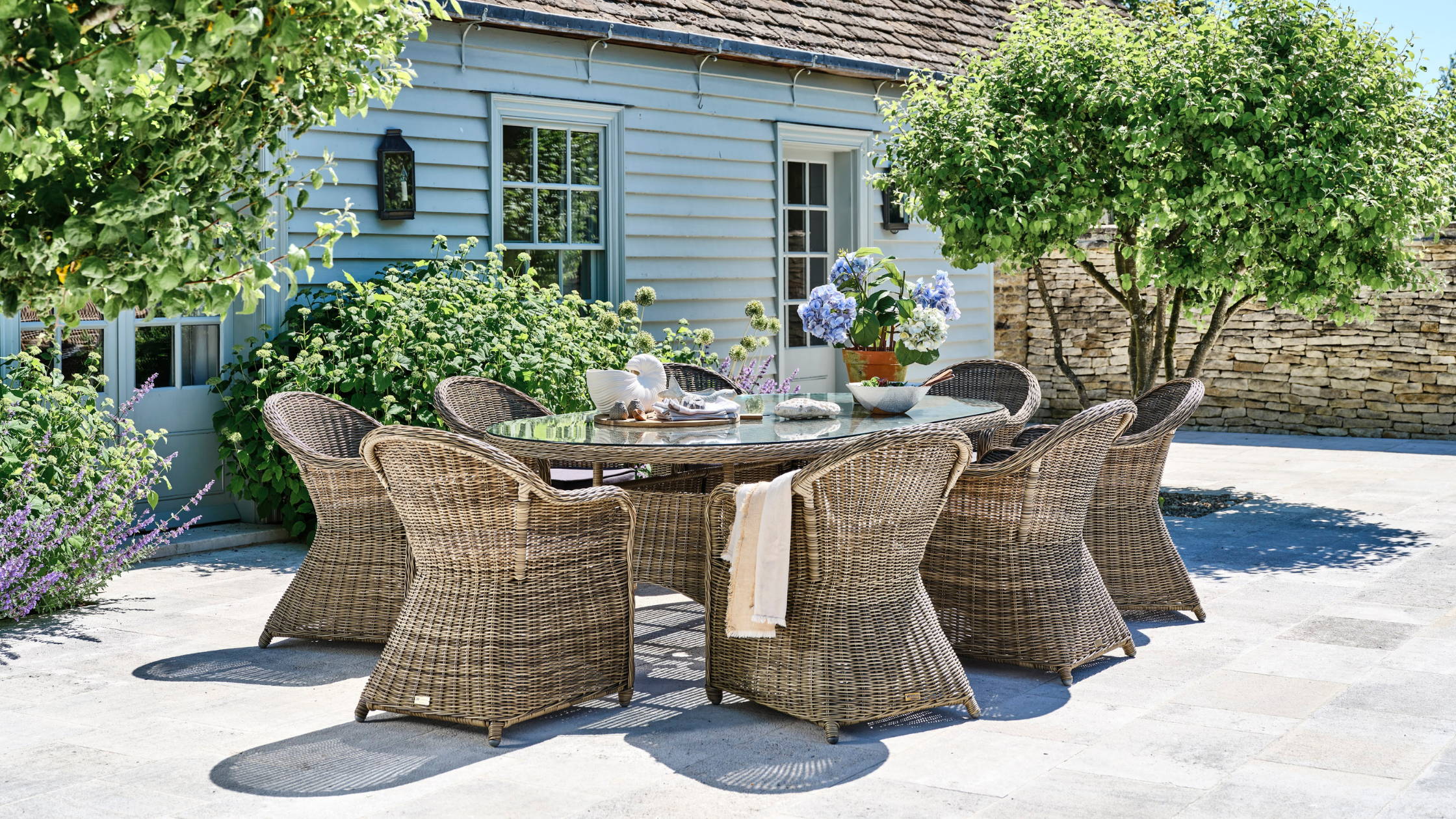 Our helpful Patio Design Guide is here to make creating your perfect patio space a breeze...
As the weather gets warmer, make the most of the sunshine in a space you love. Whether you're creating a new patio or redesigning your current space, discover how to expertly present your alfresco dining and lounging area.
WHAT IS THE IDEAL PATIO SIZE?
Your patio is the social centre of your garden so it's essential to design it perfectly. You don't want it to dominate your garden and overshadow your greenery, but at the same time it shouldn't be too small to be unfit for purpose. We advise that you, measure your living room and use similar dimensions for your patio - this will ensure the patio is definitely spacious enough for ample outdoor seating. If you're unsure, rope off the proposed area and place your outdoor furniture inside it to see how it fits. If you don't have your furniture yet, lay rope or tape in the shape of the sets you're looking to buy.
HOW CAN I MAKE THE MOST OF MY PATIO SPACE?
Steer clear of cluttering your patio with furniture that sits empty most of the time. Use smart, stylish and space-saving flexible furniture like stackable chairs, bar stools and even loungers that can be stacked on top of each other and stored away when not in use. Pair with a foldable table for a set you can effortlessly move to one side whenever you choose.
For small, bistro patios (especially small spaces with only enough room for a couple of chairs), choose a beautiful bistro dining set to create an intimate alfresco dining space that's perfect for romantic evenings out in the garden.
Well placed accents can also create optical illusions that will make your patio look more exciting and more spacious. Carefully selected accessories like lanterns and lights can be placed around the space to create a sense of repetition and unity. The added illumination will also open up any closed off, dark corners with a welcoming glow.
WHICH PATIO FURNITURE SHOULD I CHOOSE?
First and foremost, choose furniture that's waterproof. From the frame to the cushions, opt for premium pieces that you can relax on straight after a downpour, without worrying about rusting or ruining them.
It may seem obvious, but picking the perfect parasol for your space is also essential. For smaller spaces, opt for a parasol that can be placed within a dining table to shade yourself and your guests from the sun as you dine. Or, choose a larger cantilever parasol that you can rotate to find the shade as the day draws on.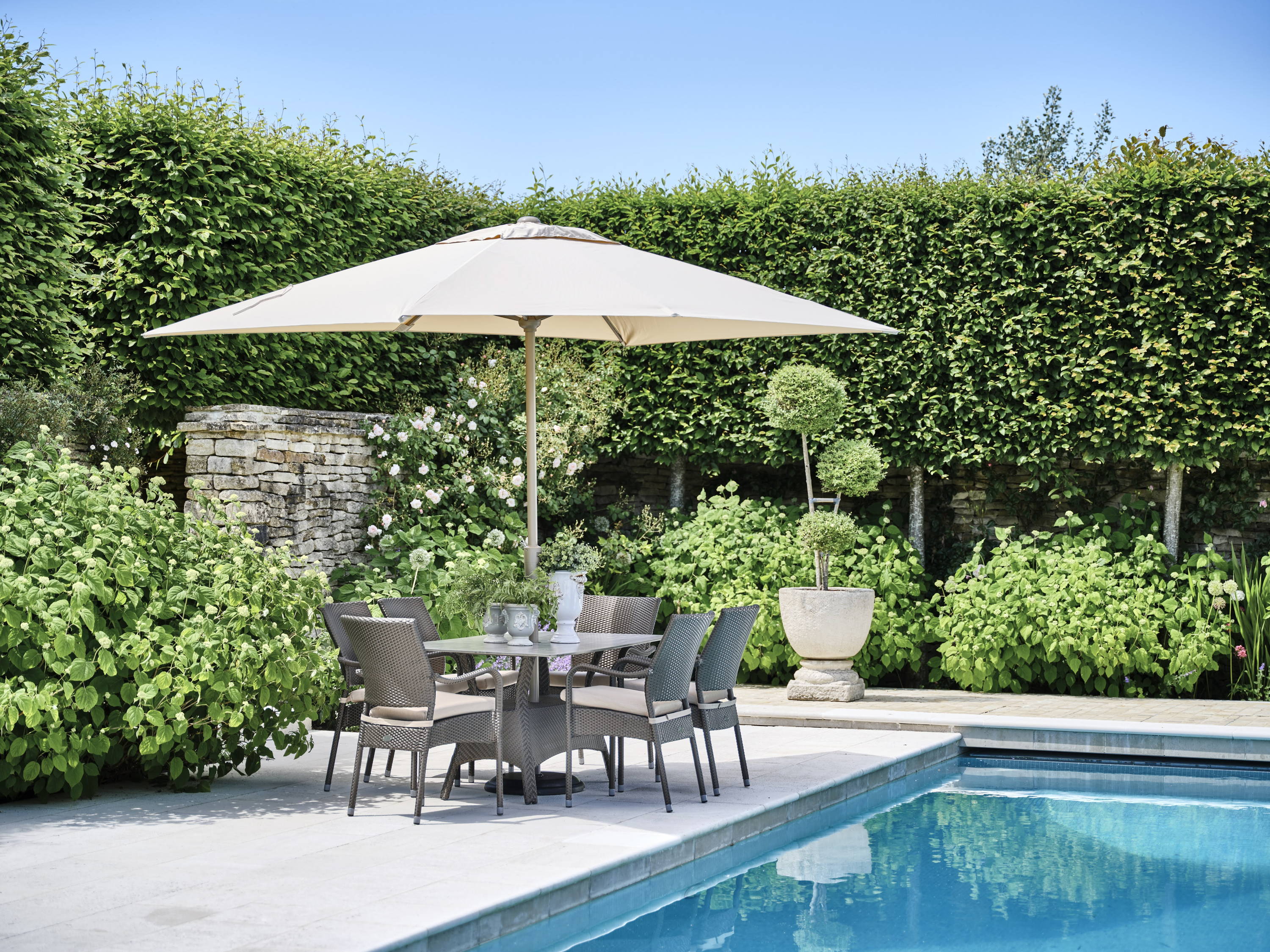 Sun loungers are another tried and true addition to any poolside patio, but they aren't always the best way to use your space. For pool parties and large garden gatherings, choose a waterproof modular sofa set to offer your guests a comfortable and spacious place to relax and chat. Innovative outdoor sofas are perfect for modern gardens in need of a touch of contemporary style that we'll be seeing a lot more of in the future.
Written by Francesca Hadland
THE UK'S FINEST OUTDOOR FURNITURE

Luxurious dining and lounging collections to suit every style of garden